Lee County New Residents Guide
The following information is provided to help new residents get up to speed. Find contact information for a wide array of activities, from properly licensing your pets to setting up your utility accounts.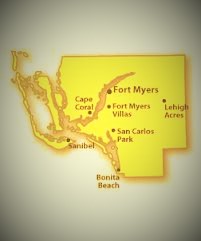 Utilities
Electricity:
Florida Power & Light [Lee County New Residents Guide]
Lee County Electric Cooperative
Television/Telephone/Internet:
CenturyLink
Comcast
DirecTV
Dish
HughesNet
Water & Sewer Service (Unincorporated Lee County)
Garbage/Recycling/Yard Waste Collection for:
Unincorporated Lee County
Bonita Springs
Fort Myers Beach
Vehicles & Travel
Automobile Registration
Driver Licenses:
Lee County Tax Collector
Florida Department of Highway Safety and Motor Vehicles
Public Transportation:
LeeTran Bus (local)
Greyhound Bus (out of area)
Florida 511 – Traffic/ Travel Information
Animals
Animal Licensing
Government Records
Cities (Incorporated)
Selective Service Office
Social Security Office
Tax Records
Declaration of Domicile (legal proof of Florida residency)
Property Appraiser
Voter Registration
Post Office
Health & Safety
Emergency Management/Hurricane Preparedness
Health Department
Sheriff's Office (Lee County)
News & Information
LeeTV (24-hour government access channel)
Libraries
Newspapers Online
Public Education
School District of Lee County
Business
Chambers of Commerce
Source: Lee County Southwest Florida
Last Updated: April 2015
© 2016 Lee County, FL. All Rights Reserved.